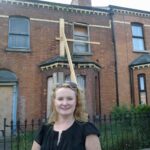 Mary has renewed her call for a different approach to be taken to deal with Derelict Sites in Dublin Central so that properties are not allowed to remain in prolonged unproductive use and dereliction.
Mary's comments follow confirmation from Dublin City Council that the properties at 19 and 21 Connaught Street, Dublin 7 have been re-inspected and finally entered on the Derelict Sites Register.
Mary said, "While Dublin City Council says it prioritises reinstatement of derelict sites back on to the housing market, it's simply not happening at any pace. With the housing crisis in our city worsening every day Dublin City Council needs to act to address dereliction and ensure properties are returned to productive use to alleviate the acute shortage of residential homes."
It is more than seven years since Mary started asking Dublin City Council to act on these properties on Connaught Street. While Mary's persistence finally resulted in these two properties being added to the derelict sites register Mary says it is unacceptable that it took so long. Mary is critical that after seven years DCC has no plan to refurbish these or any of the many other properties that are derelict in Dublin Central.
Mary says, "It is imperative that all suitable properties on Dublin's Derelict Sites Register be promptly restored and put into full productive use and provide desperately needed housing."